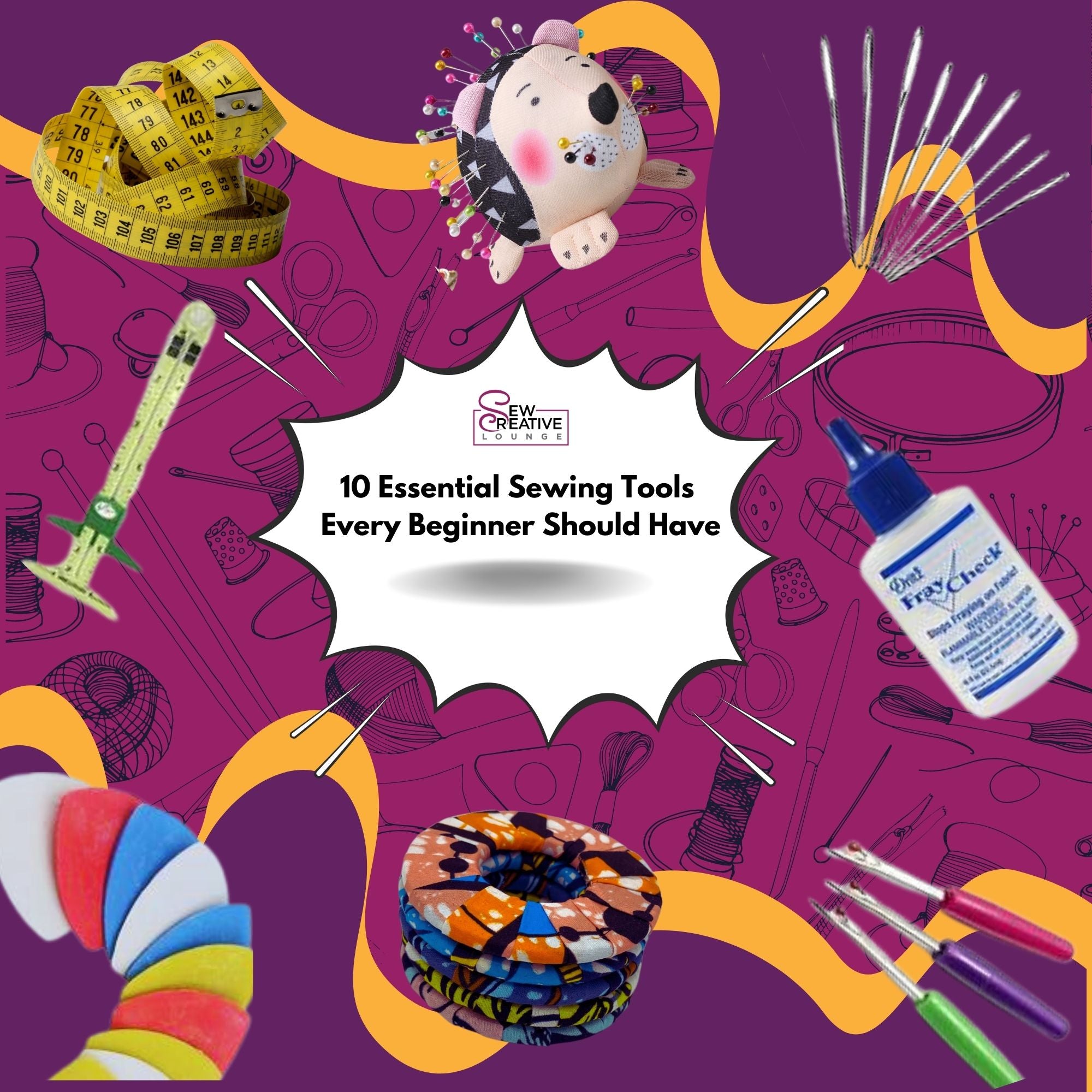 10 Essential Sewing Tools Every Beginner Should Have
Embarking on a sewing journey can be both exciting and rewarding. As a beginner, it's important to equip yourself with the right tools to make your sewing experience smooth and enjoyable. In this blog post, we will explore the 10 essential sewing tools that every beginner should have in their arsenal.
Measuring Tape:
A measuring tape is a must-have tool for accurate measurements. Use it to measure your body, fabric, and pattern pieces. Look for a flexible, retractable tape that is easy to handle.
Sewing Gauge:
A sewing gauge is a small ruler with a sliding marker. It's perfect for measuring and marking hems, seam allowances, and buttonhole placements. This handy tool ensures precise and consistent measurements.
Chalk Wheel:
A chalk wheel is a marking tool that allows you to transfer temporary markings onto fabric. It's great for drawing lines, marking darts, or indicating placement. Choose a chalk wheel that is easy to use and produces clean lines.
Mark B Gone Marking Tool:
The Mark B Gone marking tool is a fantastic tool for making temporary marks on fabric. It disappears with heat, such as from an iron or the warmth of your hand. It's ideal for marking patterns, quilting lines, or any temporary design elements.
Fray Check:
Fray Check is a liquid adhesive that prevents fabric edges from fraying. Apply it to the cut edges of fabric to secure threads and prevent unraveling. It's particularly useful when working with delicate or fraying fabrics.
Seam Ripper:
Mistakes happen, and a seam ripper will be your best friend when it comes to undoing stitches. This small tool helps you remove stitches quickly and neatly without damaging the fabric. Look for one with a sharp blade and a comfortable grip.
Hand Sewing Needles:
Hand sewing needles are indispensable for various sewing tasks, such as hemming, attaching buttons, or sewing by hand. Invest in a variety pack of needles to cover different fabric weights and projects.
Quilter's Pins with Large Yellow Heads:
Quilter's pins are longer and sturdier than regular pins, making them perfect for holding multiple layers of fabric together. Opt for ones with large, brightly colored heads to make them easy to spot and handle.
Size 14 Sewing Machine Needles:
Size 14 sewing machine needles are suitable for medium to heavy-weight fabrics. They provide strength and durability when sewing through layers or dense materials. Always use the correct needle size for your fabric to ensure smooth stitching.
Sewing Weights:
Sewing weights are an alternative to traditional pins when working with delicate fabrics or patterns that cannot be pierced. These small weights hold down the pattern or fabric, keeping it in place during cutting or tracing.
In conclusion equipping yourself with the right sewing tools is essential for a successful and enjoyable sewing journey. The 10 essential tools mentioned in this blog post - measuring tape, sewing gauge, chalk wheel, Mark B Gone marking tool, fray check, seam ripper, hand sewing needles, quilter's pins, size 14 sewing machine needles, and sewing weights - will help you achieve accurate measurements, precise markings, efficient stitching, and professional-looking results. Invest in quality tools and always have them at hand to enhance your sewing experience and bring your creative visions to life.
Happy sewing!